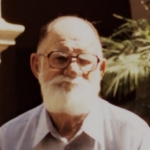 Richard W. Amero was born in Gloucester, Massachusetts. After serving in the U.S. Army during World War II, he attended Black Mountain College in North Carolina and Bard College in New York, where in 1950 he received his Bachelor of Arts degree. Amero moved to San Diego in 1956 and worked at Consolidated Vultee (Convair) and Solar Aircraft Co. before beginning a 40-year career at San Diego Gas & Electric Company.  A voracious reader, meticulous researcher and prolific author, much of Amero's work focused on Balboa Park, its two expositions, and the people who helped make Balboa Park as we know it.
Over the years Amero left a legacy of clippings from articles on Balboa Park and other subjects.  The San Diego History Center has more than 250 binders detailing the history of Balboa Park and its two expositions.  The collection contains books, newspaper, and magazine articles, research notes, government reports and correspondence from numerous sources.  The collection also has copies of letters written by architect Bertram Grosvenor Goodhue, landscape architects John Nolen and the brothers Frederick Law Olmsted, Jr. and John Charles Olmsted.
Topics in Amero's collection at the San Diego History Center include Mission San Diego de Alcala, Old Town, Mission Bay, Horton Plaza, Native Americans, architecture and local history.  There are biographical files on well-known individuals, including opera singer Schumann-Heink, landscape architect Samuel Parsons, architect Frank P. Allen, Jr. and aviation pioneer Glenn Curtiss; biographies on Ed Fletcher, Charles F. Lummis, and George W. Marston; and articles on Colonel D.C. Collier, Collier Parks, and G. Aubrey Davidson, John Morley, W. Allen Perry, E. W. Scripps, Ellen Browning Scripps, Kate Sessions, and Julius Wangenheim.  Amero also wrote several articles for the Journal of San Diego History and The Reader.
The Committee of One Hundred presented Richard Amero with its Gertrude Gilbert Award in 2010.  That award was presented for historic preservation, through his writing and collections, on Balboa Park's architecture, gardens, public spaces, and the people who made Balboa Park.
Amero had often expressed his desire to have his work on the expositions published in book form.  Not long before his death he gave The Committee of One Hundred permission to use his research and writings.  This resulted in the posthumous publication of the book Balboa Park and the 1915 Exposition, by Richard W. Amero, a collection of articles on the Panama-California Exposition, some of which had previously been published.
Much of Amero's work can be found online:
Amero's website, maintained by The Committee of One Hundred:
http://balboaparkhistory.net/
Amero's blog, written by himself, covering a variety of topics:
https://richardamero.wordpress.com/about/
Transcriptions by Amero from his notebooks:
http://www.sandiegohistory.org/archives/amero/balboapark/
Richard Amero Collection MS 76 San Diego History Center:
http://www.sandiegohistory.org/archives/archivalcollections/ms76/
Michael Kelly, Writer