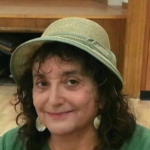 Breaking from tradition at Friends of San Diego Architecture lectures—showing projects currently being worked on and promoting projects completed, Vicki Estrada instead will be looking back at projects completed, and discuss how they could have been designed differently, and importantly, what are the lessons that have or should have been learned.
Vicki will focus on her own projects as well as others that make up the whole of the built environment in San Diego…downtown, the development of Florida Creek, the waterfront.
She will also discuss other areas of the city including Balboa Park, the Robb Field Skate Park in Ocean Beach, the SDSU Trolley Station and Aztec Green…big scale projects like Renaissance in La Jolla, and small scale projects like the Barrio Logan neighborhood sign and the Plaza de Panama Fountain.
On some projects, she will share computer simulations to visualize how, with a new perspective, developments could have been alternatively realized. These projects will include Horton Plaza and the new Horton Plaza Park, the Otay Ranch Land Plan and Rancho San Diego.
Having come to San Diego in 1955 from Nogales, AZ at the age of 3, Vicki is a near native.She is in a unique position to have tracked the development of San Diego, and is keenly aware of how the topography and climate have contributed, or not, to the uniqueness of the city.
As a board member of both San Diego Canyonlands and Groundwork San Diego, Vicki is clearly concerned with the interaction between design of the built environment and the physical environment.  She favors more projects that have greater inter-connectedness between indoor and outdoor spaces, and emphasizes the many implicit and explicit values of a close connection between humanity and nature.
After looking back, now on to the future. Vicki will expand on her visions about design in San Diego.  In an interactive discussion, she will ask how do we make the natural features of the city more accessible to the public, what are the values and priorities of San Diegans, what are the guidelines that we should follow?
Come to hear what promises to be a very illuminating lecture!